Therapeutic Modalities in Courtice
Unlock the Power of Advanced Pain Relief and Healing Techniques in Courtice Today
Discover A New Level Of Health And Happiness
Effective Therapeutic Modalities for Pain Management and Healing
Clarington Physiotherapy Health and Wellness Centre offers a range of therapeutic modalities such as Shockwave Therapy, Laser Therapy, and Ultrasound to provide effective pain management and promote healing. These modalities use cutting-edge technology and techniques to target the affected areas and speed up the healing process.
Therapeutic Modalities benefits include:
Reduce pain and inflammation
Accelerate the healing process
Improve circulation and tissue repair
Increase mobility and range of motion
Non-invasive and drug-free
Tailored treatment plans for your specific condition
Our Approach to Therapeutic Modalities
Our experienced therapists will first assess your condition and recommend the most suitable therapeutic modality for you. We use state-of-the-art equipment and techniques to provide precise and effective treatment. Our treatment plans are tailored to your specific needs and goals to ensure optimal results.
Common Conditions Treated with Therapeutic Modalities
Therapeutic modalities can be used to treat a variety of conditions such as chronic pain, acute injuries, sports injuries, arthritis, and more. The following list highlights some common conditions that can benefit from therapeutic modalities.
Tendinitis
Plantar fasciitis
Frozen shoulder
Tennis elbow
Low back pain
Joint pain and stiffness
Who Can Benefit from Therapeutic Modalities in Courtice?
Anyone who is experiencing pain or discomfort due to a musculoskeletal condition can benefit from therapeutic modalities. Our specialized therapists will assess your condition and recommend the most suitable modality for you.
Why Choose Us for Therapeutic Modalities?
Clarington Physiotherapy Health and Wellness Centre is equipped with the latest technology and our therapists are experienced and specialized in providing therapeutic modalities. We provide personalized treatment plans and prioritize client comfort and satisfaction. Our goal is to help you achieve optimal results and improve your quality of life.
Shockwave
With Shockwave Therapy, you're in for a shock! These short, high intensity energy waves, delivered through a specialized machine head, are the answer to persistent pain that has been a thorn in your side for months, or even years. If traditional treatments have failed, and your body's natural healing mechanisms have come up short, Shockwave Therapy is the perfect solution to jumpstart your body's natural healing process and get you on the road to recovery.
Are you tired of enduring pain that simply won't budge? Let us introduce you to Shockwave Therapy – a highly effective treatment that uses powerful energy waves to stimulate the body's natural healing mechanisms. By resetting your body's internal processes, Shockwave Therapy can provide the boost your body needs to finally heal and recover from chronic pain that has been plaguing you for too long. Don't settle for less – give your body the shock it needs with Shockwave Therapy.
Laser Therapy
Laser therapy (or Light Amplification by the Stimulated Emission of Radiation), is a form of therapeutic modality that uses a specific wavelength of light (usually a red laser light) at a specific power level that helps stimulate wound healing and pain relief. It does this through something called photobiostimulation where certain cells in the tissues actually absorb the energy from the laser to help heal tissue and reduce pain. Think of it like a sunburn (where your body absorbs energy from UV light), except at a much different intensity that is beneficial for your body rather than harmful. However unlike a sunburn, it is pain-free and has been shown to be effective in healing wounds faster than without!
Electro-therapy (IFC, TENS, NMES)
Electro-therapy interferential current, transcutaneous electrical nerve stimulation, and neuromuscular electrical stimulation has been used for pain relief for some time. It helps through stimulating your body's natural pain relieving systems (endorphin release and neurotransmitter release). This therapy is pain-free, and can help reduce your pain while your injury continues to improve and heal.
Ultrasound
Ultrasound therapy is a non-invasive and painless treatment that uses targeted sound waves to stimulate healing in specific areas of the body. This therapeutic modality creates small gaseous bubbles in the tissue, which attract blood flow and your body's healing substances such as macrophages and neutrophils to the affected area. This process, known as cavitation, helps reduce inflammation and improve the healing process. With no discomfort or side effects, ultrasound therapy can be a valuable tool in accelerating the body's natural healing response.
Book Your Appointment for Therapeutic Modalities Today
Don't let pain and discomfort control your life. Contact us today to book your appointment for therapeutic modalities and take the first step towards a pain-free life. Our experienced therapists will assess your condition and recommend the most suitable modality for you.
Therapeutic Modalities FAQs
Reach out if you can't find what you're looking for.
Don't Let Stiffness or Pain Hold You Back
Not seeking Fascial Stretch Therapy treatment may lead to these negative consequences
Unlock Your Body's Potential with Your Own Customized Treatment Plan
individualized care
Symptom resolution and pain relief through evidence-based treatments and individualized care plans.
Long Term Success
Prevention education and home exercises to ensure long-term success and prevent future issues.
Multidisciplinary
Get access to specialized care such as pelvic floor physio and vestibular rehab, to address unique concerns.
Affordable Care
Competitive pricing and direct billing to insurance companies for your convenience.
Exceptional Service
Friendly and knowledgeable administrative staff to make your experience stress-free.
Your Health Partner
Experience a caring, welcoming, and supportive environment that treats you like family.
Meet Our Caring and Experienced Team
Our dedicated professionals are committed to providing you with the highest level of care and personalized attention.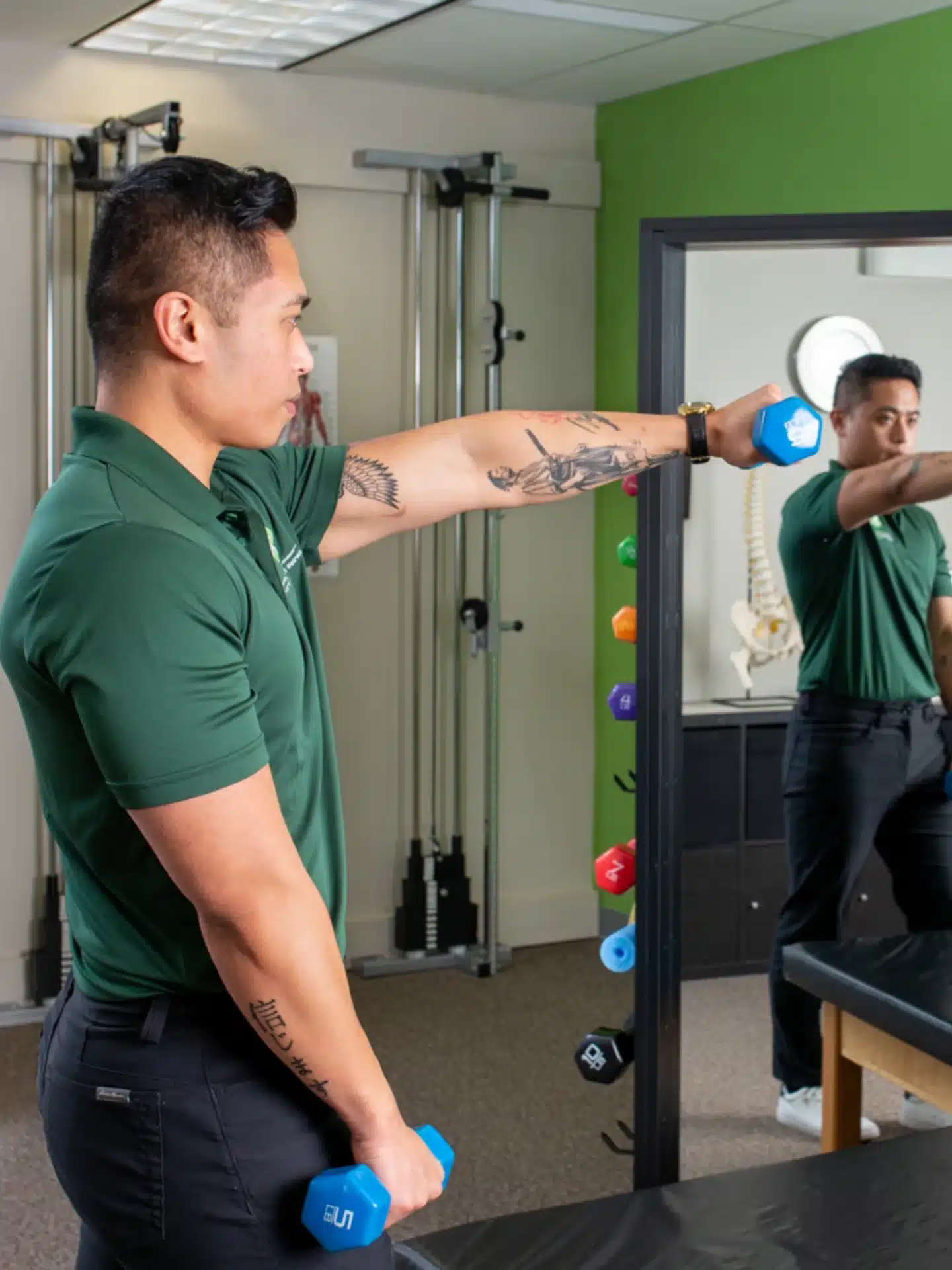 Your Path to Optimal Health and Wellness
Contact us to book an appointment
Whether you call us at (905) 240-9355 or book online, our friendly administrative staff will help you schedule your appointment at a time that's convenient for you.
Assessment and Treatment
During your assessment, our practitioners will develop a personalized plan of care and provide treatment to help you achieve your goals.
Achieve Your Goals
Our goal is to help you achieve your goals and live pain-free. We'll provide you with the tools you need to prevent symptoms from returning and ensure your success.
Direct Billed Insurance Partners
Our direct billing system saves you time and hassle, allowing you to focus on your health and recovery without the added stress of dealing with insurance paperwork.
Clarington Physiotherapy Health and Wellness Centre
Open Hours
Monday – Thursday: 7AM-8PM
Friday: 7AM-3PM
Saturday: 9AM-3PM
Sunday: Closed